Nastya and Katya, co-founders of Smart Art
The story begins back in the 90's. "The first private galleries opened in Russia right after the adoption of a series of laws that supported private businesses. The market started to emerge.(...)*". Then, "The financial crisis of 1998 hit Russia severely. The next wave of the gallery art boom came only in 2004–2008 when the Russian economy, fueled by high oil prices, started to gain strength. Interest in contemporary art in Russia was at its peak and prices grew exponentially*". Right at this moment, Nastya and Katya joined the art industry. Their story resonates with the evolution of the market until today, from the good years of the 2000's when the Russia art market gained interest from the international community, to the more complex current period when the Russian market is at a turning point and new disrupting players can tip the scales in the right direction.
Meet Nastya and Katya, co-founders of Smart Art, an agency combining artists representation and contemporary art consulting.
What got you into art?
K: It was purely accidental. I majored in Political Science and never studied art in depth. I was raised abroad, came back to Russia after my diploma and started looking for a job. A friend introduced me to Harry Blain (British art dealer and gallerist) who was looking for a gallery rep in Moscow. I was adamant at first because I had the language and a starting network but only very basic knowledge of contemporary art. Harry said: "Contemporary art is contemporary. You will learn as you go along". And this is how I became the representative of the Haunch of Venison gallery in Russia. The first three years I travelled a lot, learned a lot, and I really enjoyed the experience. In 2008 I bought my first work, by Pepperstein. And from then on, art became an integral part of my life.
N: I graduated in journalism. My first job was in PR for the Baltschug Kempinski, the only 5 star hotel in Moscow at that time. Every event in the city was taking place there. It was very exciting. Then I worked for the Russian Economic Forum, which took place in London, where Christie's found me and offered me a job. They said that my too little knowledge about art was not a problem. If I was committed enough, Christie's could provide all the expertise and training I needed. So I moved to London, took classes and training one after the other. I was fortunate to spend some time with experts in various categories. I remember the bidding training where you learn how to bid on the phone with clients. I got confused, bought the wrong artwork and thought I would never master it. Anyway, we were two Russian speakers for all of Christie's Russian speaking clients, and for six years, I lived in an airplane, went to auctions in Dubai, Geneva, London, in charge of telephone bidding! It was a great experience. I learned a lot about our company and the art market.
Both: We started in a totally different time. There was a lot of money, a lot of interest. Russian auctions were huge! Like 90 million USD. Telephone bidders were fighting over the phone and Russian collectors were buying top lots!
How did you decide to work together?
K: We knew each other before but got close when Nastya was working at Christie's and I was working at Haunch of Venison (50% of the gallery belonged to Christie's, the other half to Harry Blain). Because of the close relationship with Christie's, we organised several events together.
N: In 2008, I was almost alone, working at Christie's Moscow. We had mutual clients and we were both very lonely because our HQs were in London. So we did some interesting things: client events, exhibitions, charity auctions… At that time, nobody was there except us and we developed all the skills by multitasking.
K: The first event we did together was a dinner in honor of the inaugural exhibition of the Pinault collection at the Garage. Then, slowly slowly, I crossed over… After almost three years with the gallery, I moved to Christie's in 2010.
N: We were a great duo. We had great results, client and sales wise. It was very easy for us because we were friends, we had mutual interest in art, we were always discussing our passion and travelling… and it was a lot of fun. And then I left for an investment company. I wanted to try something else after six years at Christie's.
K: While Nastya was discovering the world of corporate investment, I was still at Christie's and started to progress, from creating an education programmes, to developing clients, managing Christie's exhibitions… but at some point, I also wanted to challenge myself and do something independently involving my primary interest - contemporary art.
N: Christie's was a great school for us. It was like an investment in our education. After our experience, we started to think that we wanted to do something more personal. Our friends and their friends were asking us for advice in contemporary art. We were spending quite some time advising in this area, taking people to different galleries and contacting the artists. So we decided to make a business out of it. This is how it started.
What is Smart Art?
Both: We consult on contemporary art. We represent ten artists and we act as facilitators between our artists and the market. We decided against opening a gallery because we had a lot of experience making exhibitions for Christie's. We knew we wanted freedom for our artists and their projects, not to be limited to a gallery space, and no financial charges. We decided to do pop up projects that would be less regular than a gallery but much more substantial.
We have different clients:
some well established collectors who need a particular guidance in a particular area.

for corporates, we can help build a collection

a new younger generation that comes to us, looking to decorate, to buy or just out of interest. They usually need little bit more explanation, education. We tell people not to buy right away. It takes some time to understand the market, find your taste, understand what makes a good quality art work. It is a process that we take very seriously and we try to help people who come to us. This new audience is more curious, more open to experimentation. They fit the art market, which is still young and less developed, so it is possible to buy very nice work for reasonable prices.
This is a new business model, because it is a consultancy, but we also represent artists. We try to go beyond any conflict of interest by trying to be objective. If somebody wants to buy an artwork and does not like the work of our artists, we are always happy to find something else. We have a collaborative approach with galleries: we want to keep developing the art market in Russia, so we need to gather forces.

How did you select your 10 artists? How do you work with them?
When we decided to create Smart Art, we asked our friends from the industry to give us a list of 100 artist names. It was like an expert committee. Most of those we offered to work with, we knew them before or were familiar with their work. We decided to choose 8 to 10 and work first on producing a personal show for each of them. One condition was that they had no representation outside Russia. It was also important for us that our artists have different practices. And we are very proud to represent a lot of female artists.
We support the projects of our artists. We are trying to keep a conversation with them all the time. Some of them need more guidance than others. We work with galleries and museums, we do fundraising for all their shows, catalogues, find sponsors to cover studio and production costs, take care of sales. We also help them with paperwork and taxes.
Do you feel any responsibility as an entrepreneur?
Yes! We want to create more interest in art in general, and in Russian art in particular. First, looking back at Russian history, compared to Western experience, we know the importance of collectors. We believe it is very important that people start to be educated and involved early. Even for our - grown-up - collectors, we take them to museums to broaden their horizons and initiate this very slow process of cultural understanding.
Second, if there is not much space for Russian art on the world market, it is because we need more support from the local market. Some Russian artists are ready but we are still missing a home-buying base for them, to build a local rating first. For that we need to all work together with museums, galleries, collectors… If you want to be a great collector like Tretyakov was when he bought Repin, start now with Aleksei Buldakov!



What is keeping the Russian market from being more developed?
It is complex. There are not enough galleries and some of them need to better promote their artists. Artists need personal and collective shows, catalogues, fairs, production of their works… and a lot of galleries are not doing it because there are not enough buyers. This is not sustainable. The market is not big enough.
Also, we have to take into account that we are a young country and we come from a history of no market except the black market.
A big effort has to be made to become legal. As long as we prefer to pay cash, we are not only preventing the official market from growing but also preventing artists from building their reputation and rating. In this context, the first statistics we have on the Russian art market don't reflect the situation because most of the transactions are grey.
But this is moving. There are a lot of initiatives, clubs, education (see our articles about Synchronize and Science.me), corporate interest, projects in the regions like the Ural Biennale or Nemoskva. First comes interest, then purchasing power, and then it will develop further. The energy is there and we cannot complain because each of our shows were almost sold out.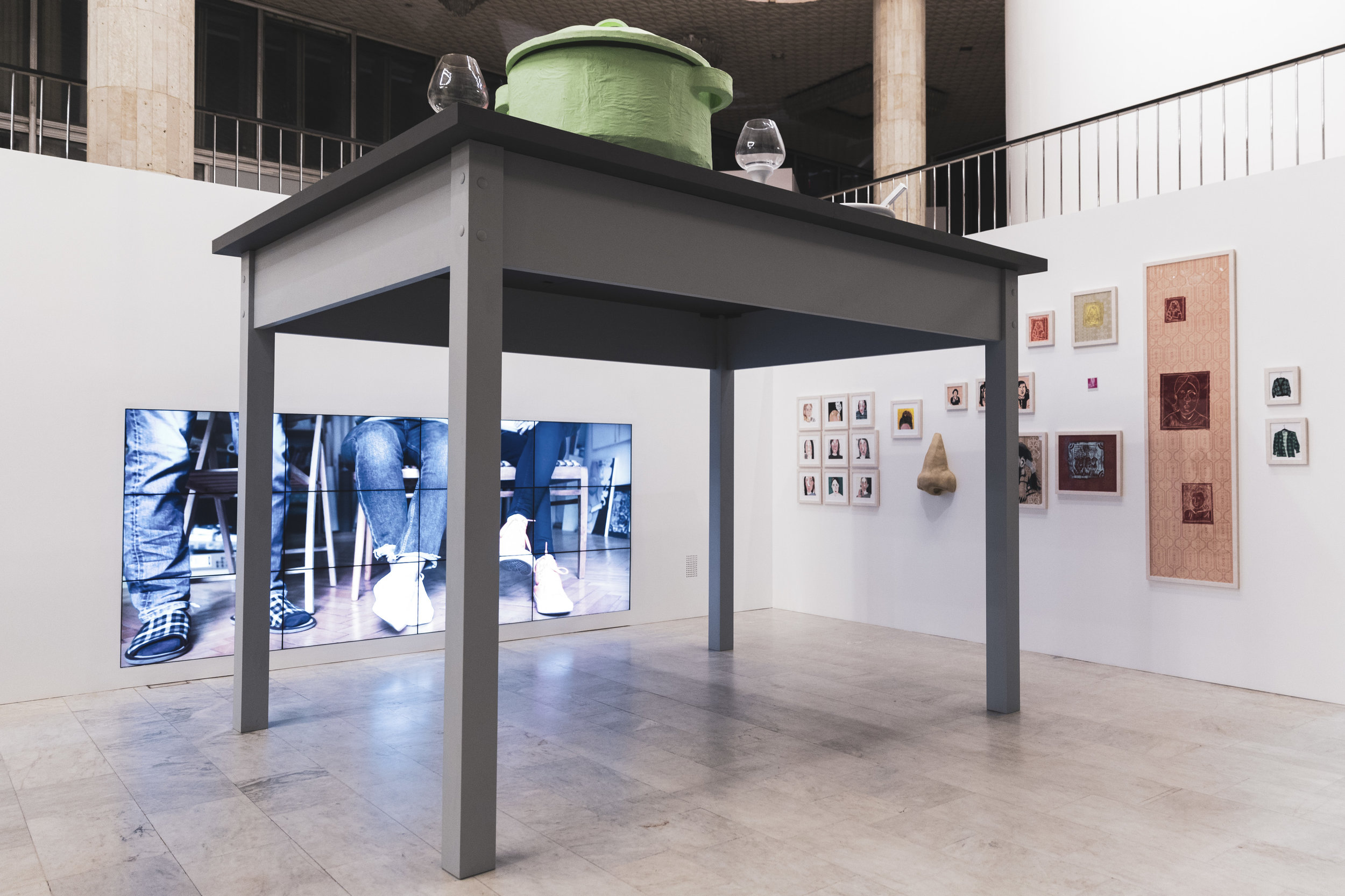 What are your tips to manage everything at the same time?
We are both mums and we have 5 kids between us so it can be challenging. So perfect time management is key! The more we do, the more we can do!
Kids teach you a lot, because you have to be efficient, you cannot procrastinate. Be calm and don't panic in any situation.
To be concrete, we decided to have certain days off during the week to manage our personal life, and we do sports. It clears the mind.
The most important is to do something that you love. It is a passion project. We always read, travel, do research, and try doing something new. This is like investing in ourselves.
Also, we are very different! Katya is the organised panicker and Nastya is the multitasking dreamer.


A new challenge?
The regions are the next territory to explore. To find new artists, to show our artists, and to meet new collectors. But for now we don't have time!
Next October will be a challenge: we were offered the MMOMA Gogolevsky venue, so we have 2 different artists, 2 different concepts, 2 different curators, same venue, different floors, at the same time.
We are still very young, just 2 years old. And we are very proud of what we have achieved so far.
K: I am very happy now that I had a hobby that turned into a business practice that I am doing with my best friend. There is not much else you can wish for.